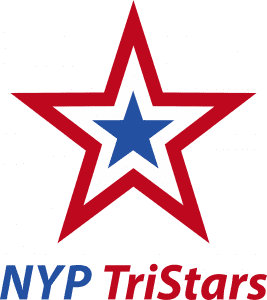 CODE OF CONDUCT FOR MEMBERS, PARENTS & COACHES
We are committed to providing a caring, friendly and safe environment for all our members.
The Code of Conduct is one of the mechanisms by which this environment is achieved and states very explicitly the expectations of the major parties in coaching kids triathlon; namely the coach, the parents and the kids themselves. By signing the membership form, you are agreeing to abide by these codes of conduct.
In the unlikely event that the TriStars fail to behave as outlined within this code of conduct, the following procedure will apply.
Yellow & Red Card system for TriStars
Step 1: Informal chat(s) with the child and informal warning of potential Yellow Card
Step 2: If the behaviour persists, then the Coach will give a Yellow Card to the TriStar.
Step 3: If a TriStar receives 2 Yellow Cards in one session they will be given a Red Card and asked to sit out for the remainder of that session. Parents will be informed – preferably on the night – but if not then by phone or email.
Step 4: 2 Red Cards in a school term and the TriStars membership will be revoked.
Additionally, if an individual receives more than 5 Yellow Cards per term, even if they do not lead to the TriStar sitting out, their membership will is likely to be revoked.
Appeals will be accepted in writing within 48hrs of any membership being revoked. The club Chairman will hear the appeal.
Welfare Officer
The Club has a nominated welfare officer. Up to date contact details can always be found HERE
1) Treat all members, coaches, parents and other people associated with the Club with respect.
2) Engage in the training that is being provided and don't hinder others from engaging in that training.
3) Actively listen to what your coach is talking/coaching. Listen to the instructions so you can engage on the activity. any handstands, chatting etc… won't be allowed.
4) Active participation: we expect people to try to do what is being asked.
5) Determination – try and do what is being asked, don't just stop, walk, pull on lane ropes etc…
6) Display a high standard of behavior, including in the changing rooms at the pool.
7) Recognise and celebrate the good performance and success of fellow club members.
8) Arrive in good time for your training sessions, i.e. 10-minutes before the start time.
9) Sign in at every session by saying hello to the coach. And say goodbye and thank you.
10) In the pool – always swim to the wall.
11) In the pool – always leave enough space between swimmers – usually 10 seconds.
12) If you arrive late, apologise to your coach.
13) Have all the equipment you need necessary for each training session, including your water bottle.
14) Use the loo before training.
15) Always inform the coach if you need to leave during training.
16) Inform your coach, prior to the session, if you have any difficulties in attending training.
Races
1) At all races always behave in a manner that shows respect to teammates, other competitors, coaches, officials and spectators.
2) Wear club kit when representing the club.
3) Be part of the club team and stay together at a race meeting.
THE 10 COMMANDMENTS FOR PARENTS
1) Thou shalt deliver and collect thy child on time, and with the right equipment. Parents are responsible for children once they leave the poolside.
2) Thou shalt behave responsibly as a spectator and encourage all children no matter what their ability, age or gender.
3) Thou shalt pay thy fees on time and by standing order if thou wants to continue receiving the coaching.
4) Thou shalt encourage thy child to know and obey club rules.
5) Thou shalt make sure thy child enjoys training without distracting other members from benefiting from the training, or disrupting coaches from performing their duties.
6) Thou shalt love unconditionally. It is crucial that your child understands that your love for him/her does not in any way depend on his/her performance.
7) Thou shalt follow the same rules of sportsmanship as thy child. "A champion takes victory and defeat in the same way."
8) Thou shalt not compare or divide. Comparing your child to other athletes on the team or in the meet is unhealthy and pointless.
9) Thou shalt take criticism straight to your coach. Discussing and complaining with other parents won't fix the problem.
10) Thou shalt teach thy child that failure is an opportunity… to learn!
1) Always remember that children participate for pleasure and enjoyment. Winning is only part of the fun for a small number of the children.
2) Put the well-being, health and safety of children above all considerations.
3) Consistently display high standards of behaviour and appearance.
4) Treat all triathletes with respect and dignity, value their worth and treat everyone equally, recognising their needs and abilities within the context of their sport.
5) Develop an appropriate working relationship with triathletes based on mutual trust and respect.
6) Always ensure that all coaching sessions are appropriate for the age, ability and experience of both the individual and the squad.
7) Never use negative ridicule or yell at children for making a mistake or not winning.
8) Always operate within the code of conduct, rules and fair spirit of your sport and instruct the kids to do the same.
9) Encourage and guide triathletes to accept responsibility for their own behaviour and performance.
10) Whilst coaching, you will put the needs of the group or session ahead of your personal or parental preferences.
11) Always ensure that the time kids spend with you as coach is a positive experience. All kids are deserving of equal attention and opportunities.
12) Continue to seek and maintain their own professional development in all areas in relation to coaching and teaching children.
13) Treat all information of a personal nature about individual triathletes as confidential, except in circumstances where to do so will allow the child to be placed at risk of harm or continue to be at risk of harm.
14) Encourage all triathletes to obey officials as well as the spirit of the rules and regulations.
15) Where appropriate obtain qualifications and keep up to date with the latest coaching practices and the latest principles of growth and development of children. Ensure that sporting equipment and facilities meet safety standards and are appropriate to the age and ability of all triathletes.
16) Display control, respect and professionalism to all involved within the sport. This includes opponents, coaches, officials, administrators, the media, parents and other spectators. Encourage triathletes to do the same, be a great role model.
17) Always show concern toward sick and injured triathletes. Follow the advice of a trained medical trainer when determining whether an injured child is ready to recommence training and competition.
18) Any physical contact with a child should be appropriate to the situation and necessary for the player's skill development or medical care.
19) Refer all concerns of a child safeguarding nature in line with Club policy.
20) At all times adhere to the BT Code of Ethics, Equality and Child Safeguarding Policy and Procedures.